Introduction:
Implant surfaces have gone through an evolutionary change from machined titanium to rough surfaces. Rough implant surfaces enhance implant stability in bone, but they may create an environment for increased plaque and bacterial colonization, resulting in peri- implantitis.
Infections adjacent to implants do occur, and the term ''peri-implant mucositis'' was proposed for reversible inflammation of the soft tissues surrounding implants.
If such an inflammation is combined with loss of bone, it is referred to as peri-implantitis.
Peri-implantitis, if not treated successfully, may lead to complete loss of osseointegration and implant loss. Peri-implantitis may occur because of biologic or mechanical factors. It can be treated by a variety of methods. In the present case report, treatment was attempted by regenerative osseous surgery associated with an Erbium, Chromium-doped:Yttrium, Scandium, Gallium, and Garnet (Er,Cr:YSGG) laser.
Medical and dental anamnesis: 
Patient motif – A 52-year-old, non-smoking male complained of suppuration and bleeding around an implant 2.2 in the area of upper left lateral incisor. 
Clinical examination – After clinical examination and radiographs, it was found that there was 2 mm recession, a probing depth of 8 mm, mobility grade one, and bone loss mesially and distally. 
Medical history – healthy, non smoker, Patient had no specific local or systemic disease that could affect the treatment.
Initial photography:
Photography during procedure:
Photography after procedure: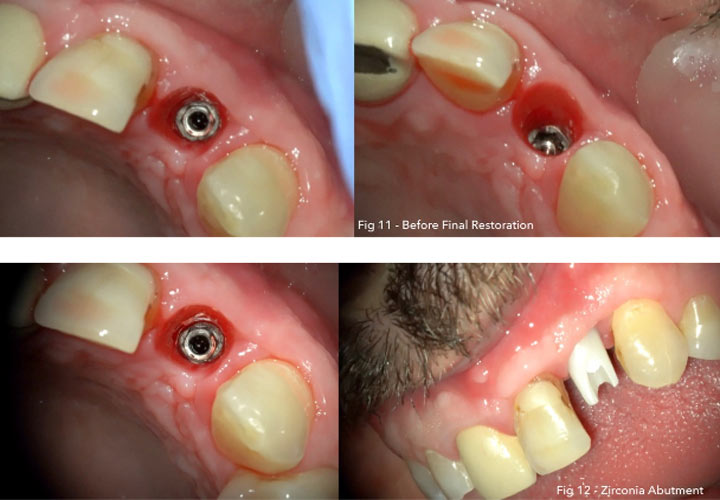 Diagnosis: Clinical examination of the implant site by periodontal probe revealed a probing depth ;8 mm buccally, recession of 2 mm buccally bleeding on probing, and exuding pus.
crown mobility was <2 mm bucco-lingually. The width of keratinized tissue was ;3 mm, and it had a thick biotype.
By examining the occlusion, it was found that there was no heavy occlusion or overloading at the implant site. The patient had maxillary midline shift to the right.
Therefore, a poor prosthesis design resulted in patient dissatisfaction and esthetic failure. Radiographs CBCT revealed bone loss to the level of 3 mm around the implant. 
Aims: Peri-implantitis, if not treated successfully, may lead to complete loss of osseointegration and implant loss.
Failure of peri-implantitis treatment may happen as the result of patient-related factors, such as having systemic conditions that may delay wound healing and smoking status, or procedure-related factors.
With regard to procedure-related factors, treatment failure may result from incomplete decontamination or detoxification of implant surface, an increase in temperature of the implant site, a change in the implant surface roughness, or a failure to improve the titanium biocompatibility.
In addition, unsuitable or insufficient bone graft materials may result in treatment failure. In the present case report, an Er,Cr:YSGG laser was used to perform the flap incisions, decontaminate the defect site and the implant surface, and perforate the bone.
Laser parameters: A full-thickness flap was performed using an Er, Cr:YSGG laser (2.5 W, 50% water, 50% air, and frequency of 50 Hz in a pulsed mode using the T4 tip of 400 μm diameter).
Granulation tissue removed with settings of 2.5 W, 20% water, 20% air, and frequency of 30 Hz in a contact mode using a MZ-6 Tip with a 600- μm diameter.
Bone perforations at the buccal cortical plate adjacent to the defect were performed using the MZ-6 tip, 4.5 W, 90% water, 60% air, and frequency of 20 Hz in a non-contact mode.
The implant surface debridement was performed in a non-contact mode, using the MZ-6 Tip of 600μm diameter at 1.25 W, 80% water, 60% air, and frequency of 50 Hz in a direction perpendicular to the implant surface and ;5 mm from the implant surface. The area was copiously irrigated with normal saline. 
Treatment: local anesthesia was given (2 ml articaine hydrochloride 4% with 1/100,000 adrenaline). the patient and operating staff wore special Er,Cr:YSGG laser–protective eyeglasses.
Highly reflective instruments or instruments with mirrored surfaces were avoided during laser beam application (to avoid reflections of the laser beam).
After flap reflection, it was found that the buccal cortical plate had resorbed to about 3 mm, and fibrous granulation tissue was present on the three dimensional sides of the implant.
Granulation tissues were removed by the laser. After complete removal of the fibrous granulation tissues, the osseous defects became clear to the third implant ration. Therefore, the defect was a combined osseous defect. 
Regenerative osseous surgery was performed using an Er,Cr:YSGG laser (2,780 nm) at different settings to open the flap, remove the granulation tissues, perforate the bone, and clean the implant surface. A bone graft and a bioabsorbable membrane were used for bone regeneration.
A bone graft (0.25- to 1-mm granules) and a bio-absorbable collagen membrane as GBR, were used to fill the osseous defects and to cover the exposed implant surface. the crown was replaced with new zirconia abutment and cemented crown from monolithic zirconia, which met the patient's expectations in terms of shape, dimensions, and Color.
Post Operative Recommendation: Amoxicillin, 500-mg capsules, tree times daily for 7 days and ibuprofen, 400-mg tablets, as needed were prescribed for the patient.
The patient was instructed to avoid eating hot foods for the first 24 hours. Normal oral hygiene procedures were performed by the patient using a soft brush and 0.12% chlorhexidine mouthwash. Sutures were removed after 10 days.
Conclusion: At 3, 6, and 12 months postoperatively, there were no reported complications, with probing depths of 3 to 5 mm, <1 mm recession, no bleeding loss. or implant mobility, and good bone formation.
The optimal result of Peri-implantitis treatment is regeneration of the lost implant-supporting hard and soft tissue.
To achieve proper regeneration, some factors should be taken into account. These factors include sterilization of the wound site, defect size and topography, space maintenance, graft immobilization, primary soft tissue closure, rapid revascularization, and sufficient healing time.
Therefore, complete regeneration of peri-implant defect can only be established with the use of augmentation materials following implant surface decontamination.
an Er,Cr:YSGG laser was highly efficient and effective in re-moving contaminants from the implant body without overheating or altering the surface characteristics of the roughened titanium surface.
The absence of any measurable changes to the titanium surface and the lack of an organic smear layer create the ideal environment for the regrowth of bone and potential reintegration of the exposed or contaminated area of the implant body.
The Er,Cr:YSGG laser enabled regenerative osseous surgery around an implant with no complications and with high patient and clinician satisfaction and confidence during the 12-month follow-up period.